WARNING: some of the footage/photographs in the article are graphic in nature.
Source > Bellingcat
Recent images from the town of Bucha just outside Kyiv, captured as Ukrainian forces regained ground following the retreat of Russian forces, show widespread destruction and corpses in civilians' clothes strewn across streets.
These images have been shared on social media and broadcast by members of the international press who have visited the town in recent days.
Initial reports from human rights organisations on the actions of Russian forces have detailed violence targeting civilians. Interviews with local residents, meanwhile, have accused Russian troops of carrying out summary executions of unarmed men over suspicions they had fought for Ukrainian armed forces in the Donbas in 2014, or even "simply for having a tattoo of Ukraine's national emblem".
Russian officials have pushed back against these claims. On April 3 the Russian Ministry of Foreign Affairs published a statement, later republished by the Russian Ministry of Defence, that claimed unequivocally that "the photos and video footage from Bucha are another hoax, a staged production and provocation by the Kyiv regime for the Western media", using the Russian spelling for the Ukrainian capital.
Under the heading "Facts", the Russian Ministry of Foreign Affairs claimed in its Telegram post that "not a single local resident has suffered from any violent action" before citing the delivery of humanitarian aid by Russian soldiers. They also claimed local people were free to move throughout the time Russian forces occupied the town.
On April 4, Russian minister, Sergei Lavrov, doubled down on these points, stating that the Ministry of Defence had exposed "signs of video fakes and other forgeries". Kremlin spokesperson, Dmitry Peskov stated that "the calendar sequence of events do not testify in favour of these allegations".
Not long afterwards, federal investigators in Russia announced they would crack down on people spreading information that claimed Russian soldiers were responsible for the murder of civilians in Bucha.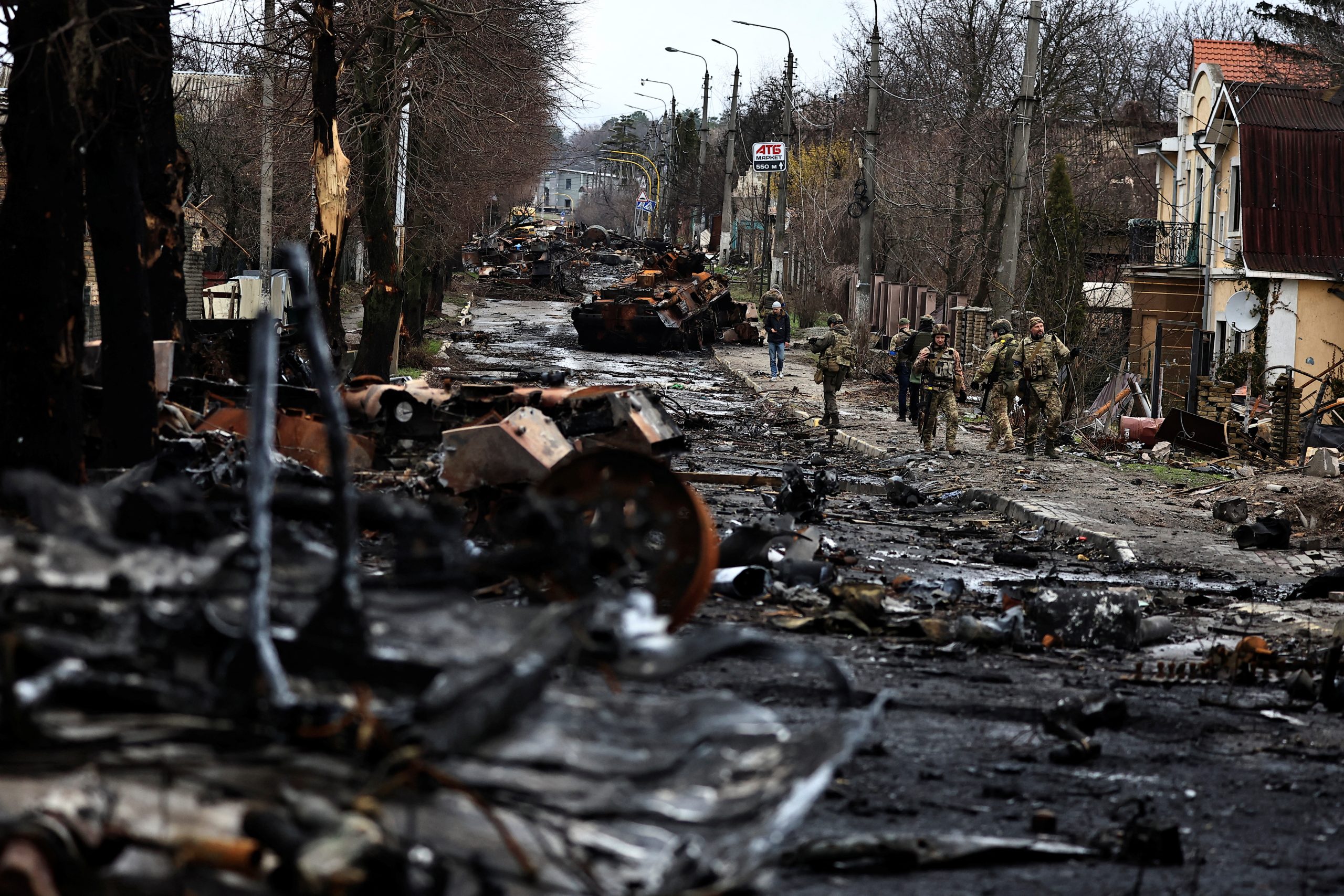 However, open-source evidence exists that appears to run counter to claims of elaborate fakes and staged productions, as well as calling into question the apparent timeline of events as depicted by Russia in recent days.
Timeline of Withdrawal
The Ministry of Foreign Affairs statement claimed in its Telegram statement that Russian forces pulled out of Bucha on March 30. It also alleged that "the so-called 'evidence of crimes' in Bucha did not emerge until the fourth day" after its forces had apparently left, which would be April 3, "when the Security Service of Ukraine and representatives of Ukrainian media arrived in the town." The Russian statement also cites a video posted online by the mayor of Bucha, Anatoliy Fedoruk, which claimed Bucha had been liberated as of 31 March 2022.
Other statements, reports and open-source evidence, however, raise questions about this timeline and the complete accuracy of Fedoruk's March 31 claim.
For example, Russian media outlet TV Zvezda claimed in an article published on the morning of April 1 that: "Airborne units, in cooperation with the Marines, successfully held back the actions of enemy forces in the direction of Gostomel – Bucha – Lakes for five days. As a result, the Marines were able to take full control of the territory from the Irpin River towards Kiev, with a total length of five kilometres.
"The commander of one of the Marine units Alexey Shabulin noted that currently Russian Marines conduct search and reconnaissance operations and clean up settlements with the further task of gaining a foothold in them", the TV Zvezda article stated.
On the morning of April 1, meanwhile, a video was shared on Telegram featuring the secretary of the Bucha City Council, Taras Shapravsky, stating: "Currently, the city remains under occupation, many mines, houses and even corpses. Therefore, we ask those who remain not to approach dangerous objects. The liberation of the city continues, the Armed Forces of Ukraine, territorial defence are working to regain every metre of native land".
Video Footage From Bucha
Videos and photographs from Bucha, showing deceased individuals in civilian clothes, first appeared on social media channels on April 1.
This would again run counter to Russian claims of such evidence not appearing until April 3 (WARNING: some of the footage in the following links is graphic in nature).  A video shared on Telegram at 6:18 pm BST (8:18 pm in Ukraine) and a video shared on Twitter at 9:02 pm BST on April 1 show dead bodies lying on Yablunska Street in Bucha. Other videos from the same street published between April 1 and April 2 can be found here.
All videos show the same sections of the street, with the same corpses and wreckage visible in the same position.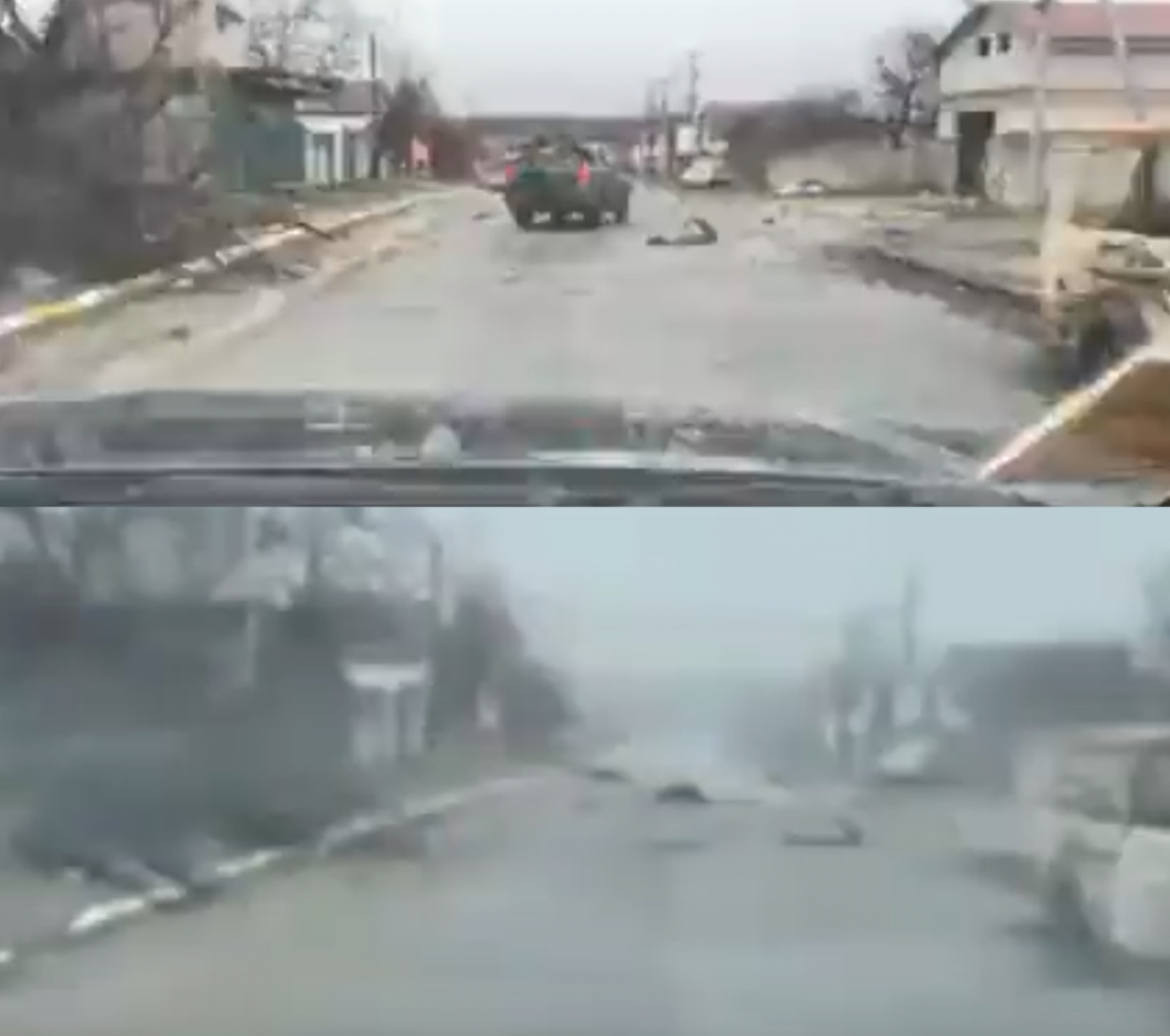 Moving Corpses Myth
Yet these videos from inside Bucha have also been used by the Russian Ministry of Defence and Russian Ministry of Foreign Affairs to posit that some of the corpses were moving and therefore that the footage was a fabrication.
In an April 3 Telegram post from the Russian Ministry of Defense, re-shared by the Ministry of Foreign Affairs, a video published by Ukraine's Espreso.tv is used to make the claim that one corpse is seen raising its arm, and another is seen sitting up. 
These claims, seemingly sourced from pro-Russian social media users, were rapidly and thoroughly debunked by reporters and social media users, including BBC Monitoring's Shayan Sardarizadeh. 
Sardarizadeh highlighted the work of Aurora Intel which examined the "moving hand" claim and demonstrated it was more likely a water droplet moving across the windscreen. 
It is also notable that the version of the video shared on social media by people claiming a hand can be seen moving cuts out the moment before and after the droplet moves over the body. This appears to misleadingly strengthen the impression of a hand movement, as detailed in the below post by Sardarizadeh.
The supposed moving corpse reflected in a car's wing mirror, meanwhile, can be easily explained by the warping of the reflection, which also visibly affects other objects around the corpse.
Sardarizadeh also highlighted AFP and Getty Images photographs that show the corpses seen in the April 1 videos still in place days later on April 3. Open source researcher, and Bellingcat contributor, Benjamin Strick found other videos of the corpses to prove the same point.
Russia has called a UN Security Council meeting "in the light of heinous provocation of Ukrainian radicals in #Bucha", as it was put by First Deputy Permanent Representative of Russia to the UN, Dmitry Polyanskiy on Twitter. It thus seems the claims detailed here will likely be repeated in the days and weeks ahead, something that seemed to be further confirmed by the April 4 comments of Kremlin spokesperson, Peskov, and foreign minister, Lavrov.
Debunking what appears to be false and providing full context is therefore vital to ensure a full picture is presented.
As always, the combined efforts of online communities have helped debunk the false claims made in this story. While we cannot cite everyone's efforts, it is important to thank all involved in examining and fact-checking these claims.
---
Bellingcat is a non-profit and the ability to carry out its important work is dependent on the kind support of individual donors. If you would like to support their work, you can do so here. You can also subscribe to their Patreon channel here. Subscribe to their Newsletter and follow them on Twitter here.
---
---