Source >> Tansy E Hoskins
Today marks ten years since Rana Plaza collapsed into a pile of rubble, terror and grief. Forever placing a mass grave at the heart of the fashion industry.
In London we have many of the brands who were responsible, both directly and indirectly, for Rana Plaza. To mark the ten year anniversary the Rana Plaza Solidarity Collective held a walking tour of Oxford Street that included laying a memorial at Benetton, sticking blue plaques on H&M, and invading Levis.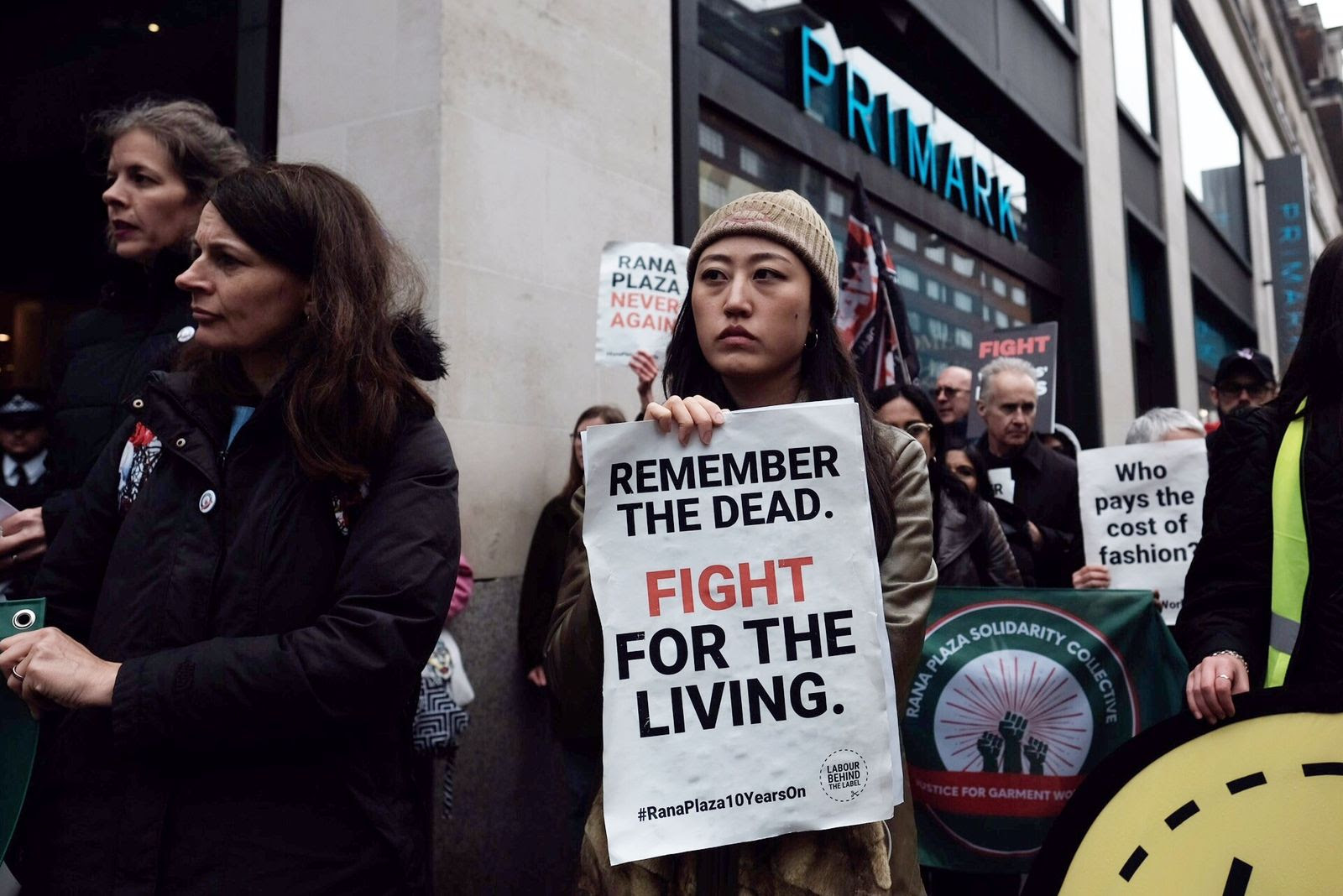 Photography: Angela Christofilou aka @protests_photos
The final stop on the tour was to Name The Dead outside Primark's flagship store. We had 1,138 names to read. For context the monthly reading of 72 names to mark the Grenfell fire takes up to seven minutes to complete. With over 1,000 names we decided to split them into eight sections and have eight people call them simultaneously to create a cascade of sound and rememberance, a reveberating wall of names and ages.
The aim was to break the souless normality of Oxford Street. To bear witness. To interupt the flow of commerce and business as usual and replace it with the reality of 1,138 bodies wrapped in cloth and thousands more people left to deal with physical injuries, pschological trauma and grief.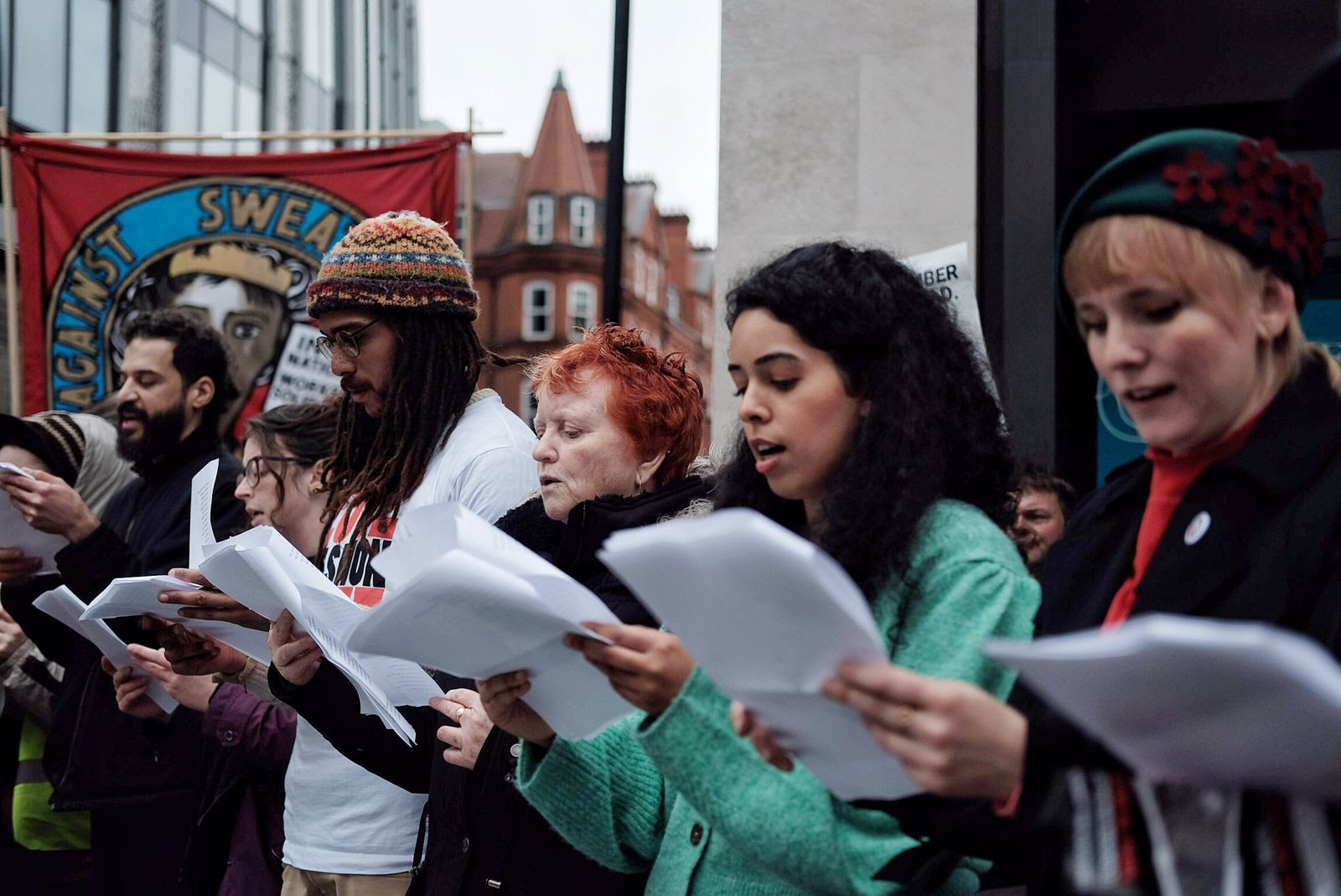 Photography: Angela Christofilou aka @protests_photos
Of the Naming itself, I remember only snatches.
The impossibility of hearing all the names that were read out but feeling surrounded by the lives of those lost. Anchoring onto the voices of Yalda on one side and Murad on the other as I struggled not to stumble over reading.
Of the way saying people's ages – 15, 27, 19 – made it feel so much more real.
Of the passers-by who stared at the scoll-like green banner that lists all the names, and who having paused then stopped and stayed till the end.
The heat of the flare in my hand as someone behind us in Primark said we were going to set off the fire alarms and Joanna replying isn't it a shame they didn't have fire alarms in Rana Plaza or Tazreen…
Of the heaviness of 1,138 names that lingered after we finished reading. The silence when it was over and we stood together to remember.
Photography: Angela Christofilou aka @protests_photos. To view all the photos from Sunday's event click here.
---
Tonight's events, which mark the day of the anniversary, begin with a memorial at 5.30pm at Altab Ali Park:
To watch the trailer of the film that will be screened tonight click here.
In solidarity, Tansy.
---
Anti-War Art Book Review Books Capitalism China Climate Emergency Conservative Government Conservative Party COVID-19 Creeping Fascism Economics EcoSocialism Elections Event Video Fascism Film Film Review France Global Police State History Imperialism Israel Italy Keir Starmer Labour Party Long Read Marxism Marxist Theory Migrants NATO Palestine pandemic Police Protest Resistance Books Russia Solidarity Sport Statement Trade Unionism Transgender Ukraine United States of America War
The Anti*Capitalist Resistance Editorial Board may not always agree with all of the content we repost but feel it is important to give left voices a platform and develop a space for comradely debate and disagreement.
---